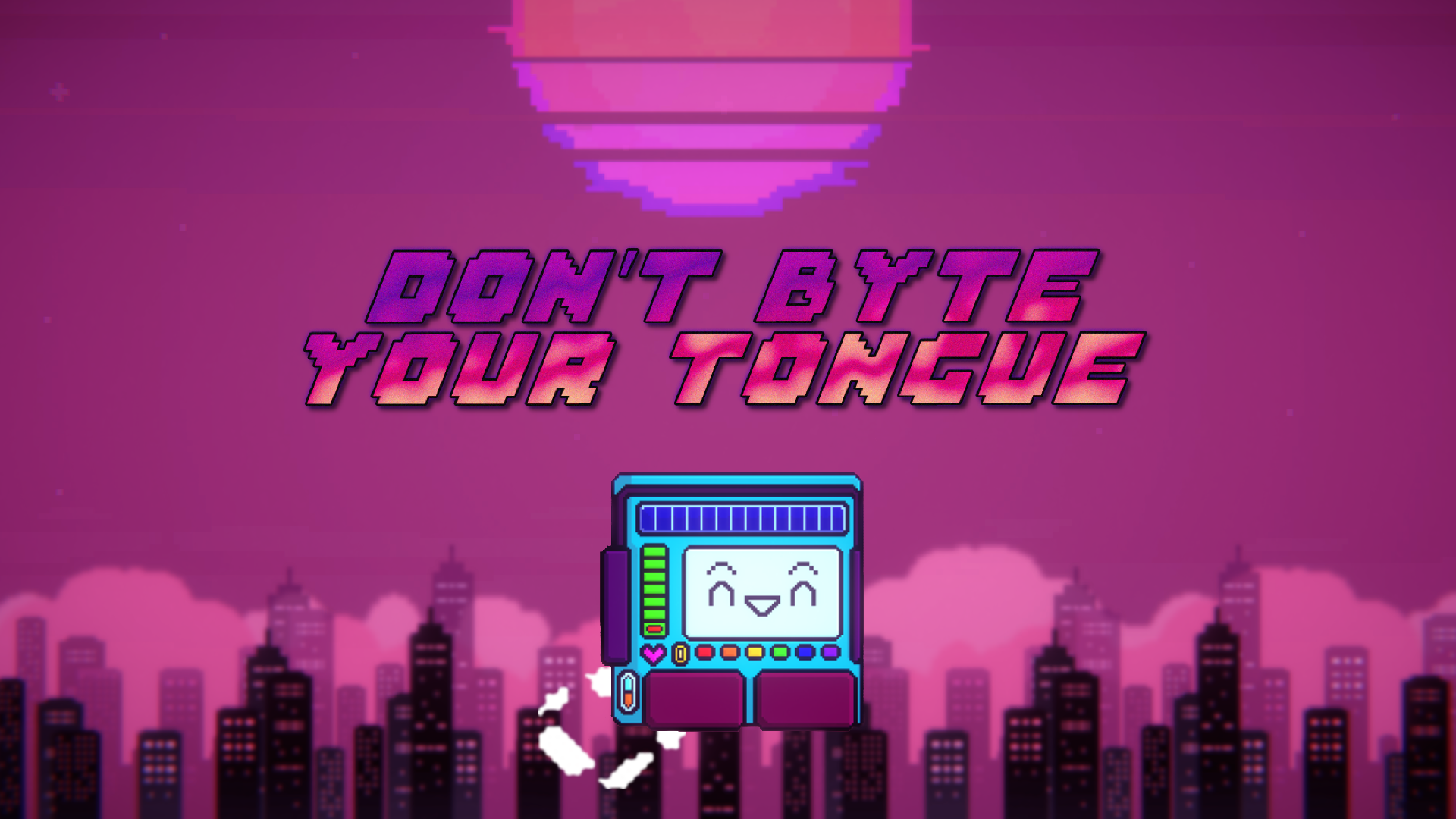 Factsheet
Developer:
Up Your Arcade Team
A student lead team based in Dubai,
United Arab Emirates
Release Date:
April 7, 2023
Website:
Regular Price:
USD $2.99 (Steam / Epic Games Store)
USD $2.99 - Freemium (iOS / Android)
Description
Don't Byte Your Tongue is a rage game and precision platformer that has a simple premise: Get to the top! The gameplay is easy to learn but hard to master, making it accessible to players of all skill levels. However, as you progress through the game, you'll face increasingly difficult challenges that will test your skills to the limit.
In this thrilling 8-bit retrowave platformer, your objective is to climb up multiple levels and overcome various obstacles in order to reach your robo-lover at the very top. This rage game will test your skills and patience as one wrong move can send you back to the very bottom. You can choose from different game modes to suit your preference and style, which will allow you to make an already difficult game even more difficult. You can also show off your best times and rank up on the cross-platform leaderboard that features players from all over the world and from every platform.
If you're looking for a challenging platformer that will test your skills and make you rage, then Don't Byte Your Tongue is the game for you. With easy to learn, hard to master gameplay and multiple game modes to choose from, you can sink countless hours into this game! So try your best, don't get too mad, and Don't Byte Your Tongue!
History
Don't Byte Your Tongue started as a project amongst a group of students because of their love for rage games. The team aimed to create an addictive rage game where the goal was to establish a simple set of mechanics that would be easy to understand for any type of player, but difficult to master as the game progresses. Rage games were mostly seen as unfair games that brought entertainment to only viewers and not the actual player, but the goal for Don't Byte Your Tongue was to create a rage game that was fair but still retained the brutal punishments expected from a rage game. This game then transformed from a concept into a prototype back in January, 2022. Ever since the summer of 2022, Don't Byte Your Tongue has been beta tested by our beta testers in our Discord community. The final version was made in the first week of April, after almost a year and three months of work. It is simply a passion project created by a bunch of undergraduates that did not want to study.
Features
Easy to learn, hard to master gameplay.
Beautiful 8-bit retrowave art.
Addictive synthwave tracks.
A total of 8 levels, each one adding a unique twist to the game.
Secret collectibles hidden in all levels that you can bring to the top for your robo-lover.
NPCs that bully you for not being good enough (may occasionally provide advice).
Multiple game modes that offer more difficulty.
Competitive cross-platform leaderboards to show off your skills.
A high difficulty platformer that will make you rage!
Videos
Gameplay Trailer
Full OST
About Up Your Arcade Team
Boilerplate
Up Your Arcade Team is a game development team lead by undergraduate students in the United Arab Emirates.
More information
For more games published by us, click here.